⬆️ Upload Your Own Assets
📏 Scale for Uploading Images of Different Sizes
🎆 Create Web Image Assets
🧑‍🤝‍🧑 Share Assets and Scenes
👾 Adding an NFT as an Asset
---
⬆️ Upload Your Own Assets
You can upload your own objects or images to a world - anything from your company logo, custom art, 3D renderings, or a picture. Uploaded assets must be in the form of a .jpeg or .png.
Click the Library icon
Click Upload Assets
In the Upload Assets page, add a name for your asset
Upload the layers of your asset. If you only have one layer, you can choose whether it should be a top layer or bottom layer
Click the Upload Asset

button or the

Upload and Place Asset

button
Note: Images uploaded as top layers will appear in front of the Topi and images uploaded as bottom layers will appear behind the Topi. For example, if you want the Topi to walk on top of a path: you should add that path image as a back layer.
---
📏 Scale for Uploading Images of Different Sizes
Want to add your own images and looking for a scale of how big they will be in your world? Just download this "Topi" and use it as a scale for your uploads.
The Topi avatar is 159 pixels by 159 pixels.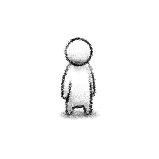 ---
🧑‍🤝‍🧑 Share Assets and Scenes
World owners, there's a Share toggle in your Library's My Assets and My Scenes pages. Flip this to ON in either page, and your asset or scene will be added to the Shared Assets or Shared Scenes page (depending on what you shared) for the world you're currently in. Admins for that world can then use these assets or scenes to help co-create your world!
---
🎆 Display Web Image Assets
Another option is to display an image hosted on another website or URL in your world. This means that entire worlds can be created using externally hosted assets as long as these assets are .jpegs or .pngs. At this time, html displayed images are not supported.
Click the Library icon in the bottom half of the toolbar to open the Library drawer

Select Topia Assets

In the Topia Assets page, search the library for Web Image Asset

Click on the Drop icon to click again to place the asset in your world

Hover over the ➕ symbol of the asset and click the pencil icon

Click Edit to open the Modify Asset drawer and then click Layers

Under Layers, go to the Top Layer or Bottom Layer field and enter in the image URL
---
👾 Adding an NFT as an Asset
Display an NFT in your world by link an Ethereum wallet to your Topia Account. Click here to learn more!