Everything you need to know about using a scene and saving your own scenes
When you create a new world in Topia it will come with one of our scenes or templates pre-populated. The scene can be changed at any time - you can choose from a collection of our scenes or start from a blank slate. Each scene can be further customized to fit your needs.
📐 Change the Scene
The World Owner as well as Designer, Producer and Manager admins can change the scene in a world. Follow these steps to update the scene in your world:
Go to your world

Click the Library icon

Click Topia Scenes

Select a scene and click the Drop icon to place it in your world or the Replace icon to replace everything in the world with the scene selected
---
🎨 Create a New Scene
Easily save your world as a scene so that you can use it again in the future. Only the World Owner or Manager admins can create a scene. Follow these simple steps to save your own scene:
Inside your world, click the Library icon

Click Create Scene

Add a name and description.

To share the entire scene with the general public, click the toggle next to Submit to Marketplace? (learn more here)

Click Save Scene
Your scene will now appear in the My Scenes menu and can be used any world in which you are the owner or a manager.
---
🎁 Share a Scene
Send a copy of your scene to anyone that you are connected to or anyone that's on your friends list.
Click on the conversations icon or the message icon on the person's peer video screen
Click the three-dot menu in the conversations drawer
Click share scene to open your scene library
Find the scene you want to share
Click the send icon under the actions column

The person receiving the scene will receive a message that the scene has been shared with them. Once they accept it, the scene will be added to their personal scene library.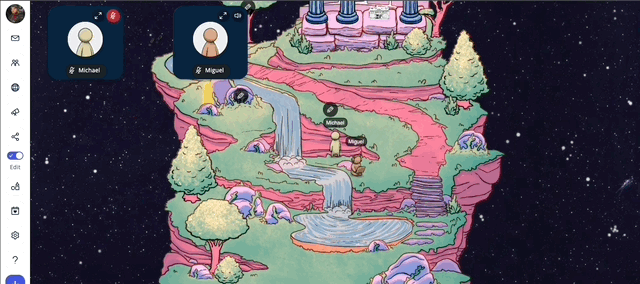 Frequently Asked Questions about Scenes
When can I use a scene?
A scene can be dragged and placed anywhere in a world that you own.
Drop Scene vs. Replace Scene
Drop: An entire scene can be dropped and added to the current layout of a world. The scene can be dragged and placed anywhere in a world that you own or have manager privileges.

Replace: As a world owner, you have the ability to replace the entire layout of a world with a scene.